The largest industry in Pakistan is textiles i.e. the production, sales, and marketing of clothing and their related products. Hence it is safe to say that the clothing industry in Pakistan contributes massively to many aspects of a Pakistani's life form numerous eCommerce websites that sell Pakistani dresses to the enormous bazaars present in our raging metropolises we absolutely adore fashion and textiles.
Especially those that provide us with a certain sense of uniqueness and class hence the birth of dozens of bands in the industry all claiming to be the best of the best producing the finest quality clothing with traditional and cultural designs and patterns with at time even a western touch that is simply adored by the masses. This cult-like behavior has not been limited to Pakistan but has spilled overseas and across our borders, as a result, there was the creation of a vacuum in the market.
No one was able to answer the question of how to provide the latest from the Pakistani fashion industry to customers overseas without a tedious, time consuming a rather expensive process that was often not even accessible to customers without contacts in Pakistan. This gave birth to direct eCommerce websites like dresses.com.pk and pakistanidresses.co.au that sell quality Pakistani dresses directly to customers abroad. Being heavily optimized for sales abroad they possess certain features that not only provide easy access to the locals of countries abroad but have additional features like easy return and stitching services that go hand in hand with their flawless customer service.
The Major Players in the Pakistani Fashion e-Commerce World
One of the oldest brands of Pakistan, Gul Ahmed began its journey in 1953 now amongst the most popular and well-known brands of the country. Gul Ahmed latest collection; The latest collections from Gul Ahmed have always been a point of great interest and are considered as one the best in quality and design, by using the finest of fabrics they are able to create dresses that outclass the competition with their unique and interesting designs and fabrics, Famous clothing line; Gul Ahmed lawn is the brand's most demanded item women who have tried Gul Ahmed lawn have rarely given heed to any other designs or fabrics.
Khaadi
To begin with, the khaadi brand was established in 1998. It had the vision to revive the traditional craft of the loom. Reinterpreting it inside a modern and fashion-focused context to suit the street this attribute currently manifests within all of its styles and brands from quick fashion for men, women, and kids to accessories and a home line up. Khaadi's merchandise is instantly recognizable for their distinct international and ethnic inspiration.
Dresses Collection online have has numerous exclusive khaadi dresses available. Moreover, they are of luxury fabric with heavy embroidery and elegant patterns. Beyond this, they also have the latest dresses for the joyous occasion of eid. To summarize they have all outfits and fabrics that your heart desires. They also provide excellent stitching services for your exquisite khaadi clothes; hence if u want Khaadi Dresses is the one-stop-shop for all your clothing needs.
Asifa Nabeel
This is the era of perfect designing and stitching showcased in Asifa Nabeel collection. Actually, our outfit depicts your style. When you are wearing an up to date dress your confidence boasts automatically. Therefore, it is the prime reason why one should be keen on its wardrobe. Having the best collection of dresses is all that you want this year. Therefore, Asifa Nabeel is here to rescue. They have amazed everyone with their latest collection.
Every article is alluring. Moreover, the customers are attracted to their display. They have utilized the latest color schemes. The color contrasts are in trend these days. For summer collection Asifa Nabeel has chosen the combination with white color. This looks fascinating when displayed. The prints are unique and appealing. Every dress has its own qualities. The lawn collection has captured hearts. The fabric is of good quality.
Moreover, there are embroidered articles too. They look really captivating. The stitched variety is here with the best stitching. Fine stitching makes the article look more perfect. Therefore, every dress is fine by every inch. Moving towards the formal wear there is a huge variety of formal dresses. Mostly chiffon fabric is preferred. It carries the embroidery and cutwork very well. The stones and thread are of excellent quality. All the latest designs are displayed online along with price tags. The customers really appreciate the fine embroidery with appliquéd work on every article. The colors are durable and last longer. Therefore, this brand is becoming a favorite in the market.
Afghani Dresses
Afghani Dresses possess a unique cultural feel. They have embroidery work which makes them different furthermore their mirror embroidery is exceptionally desirable due to their vibrant colors and beautiful patterns. The finest fabric will not lose its vigor and shine is the embodiment of afghani dresses.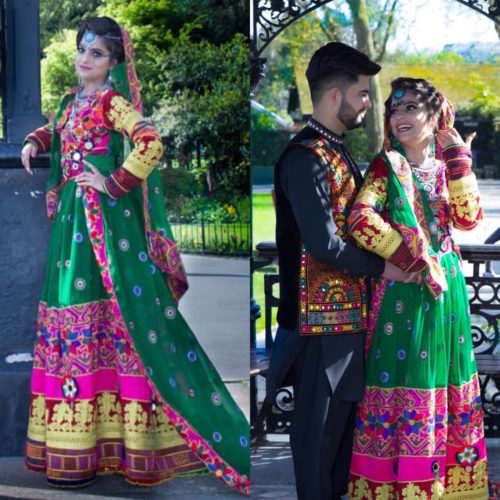 More tranquil colors are being used recently the vibrant designs have a different feel with at times metallic embroidery they manage to grip all the ladies with an outfit that contains it all. The cultural feel they have is desired by all ladies and become fitting for every occasion. For both men and women, this style has been presented in black, is now more attractive. All in all Afghani dresses have a special appeal. Presented with fine fabric and beautiful embroidery, hence afghani clothes are very elegant and attractive for the global market.
Agha Noor
When it comes to fashion Agha Noor becomes everyone choice. the designs and color scheme matters a lot. Therefore, Agha Noor is here to serve its customers with the best. They displayed the best and amazing designs. Every design is unique with perfect stitching. the casual and formal wear both have their specialties. In casual wear, the latest designs are very attractive. In summer collection the calm colors are used. The embroidery is also very fine. Especially the motifs look amazing. the perfect stitching for the ready to go wear makes the articles more effective. Moreover, the fabric is of excellent quality. this shows the durability and quality of the brand.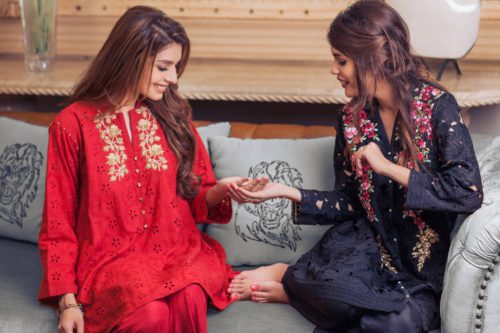 Basically, Agha Noor has come up with the best designs and articles this year. The formal wear is also alluring. Mostly the bright colors are used. Informal section, there are both stitched and unstitched suits. The stitched ones are also used as party wear. There is light embroidery with cutwork. The stones are also of good quality. The silver and golden stones look enticing. In unstitched wear, there are more attractive designs. They are absolutely amazing and elegant.
Chiffon and silk fabric is favorite. They carry the cutwork and handwork very keenly. These dresses are displayed online. All the prices are displayed. In this way, it is easy for customers to get hands-on the best variety. This variety will surely provide the best for your wardrobe because every design is worth buying and unique with perfect fabric quality.
Aisha Imran
Aisha Imran has permeated Pakistani fashion with its endearing designs. A fashion house of eastern and desi clothing that ensures the uniqueness of each piece. in its level of individuality and originality. Aisha Imran has been contributing towards international fashion exhibition. Furthermore, the period of time Aisha Imran has introduced A range of bridal wear and couture.
Additionally, pieces are always a combination of traditional touch and modernity. Aisha Imran bridal wear is highly customizable according to the needs and desires of customers. Furthermore, they listen to the customer's set of mind and ideas.
Anaya By Kiran Chaudhry
Anaya by Kiran Chaudhry has surprised everyone with her latest outfits. She covers all the latest trends. The new collection in 2019 attracts everyone. The ladies love the designs. However, they find every article worth buying. The colors used in the display seemingly trending. There are some dresses with color contrasts. Besides, sharp and light colors when mixed together to provide the perfect texture. The embroidery looks fascinating. Moreover, the designs look unique. The hard work is evident in every piece.
Furthermore, the creativity of the designer has amazed everyone. The casual collection is fine and classy. One can carry it for daily use. The fabric used is durable and according to the season. Besides, customers find it very comfortable to wear. Actually, in the summer season, the fabric used must feel lightweight. In summer collection bright and calm colors are used. This makes their display a hot favorite Pakistani Fashion.
Asim Jofa
Asim Jofa has displayed the latest variety that includes unique designs with amazing prints. His collection will surely add to your wardrobe. Wearing a perfect outfit makes you feel better. Therefore, get your hands on the best variety of available. In the latest summer collection, the prets are really amazing. Moreover, the embroidery and motifs and also in trend Pakistani Fashion. The multi-colored threads are used. the white base with colorful prints is the favorite. Such calm colors provide the best designs. It looks very nice when carried in the summer. Moreover, the spring collection is also full of colors. The lawn fabric is of good quality. The colors do not wash away. this shows the best quality of the designs and suits.
Staying faithful the name of the brand, Baroque focuses on manufacturing attire that's modern, trendy and timeless. By introducing outfits that have fashionable silhouettes and are majorly fabricated from decorated and traditionally crafted cloth. Catering to a large set of audience, by launching numerous ranges throughout the year, Baroque manages to style garments that are distinctive, easy and ideal for each event.
True to its ethos of creating beautiful clothes at affordable prices, Crimson is delighted to collaborate with the best and biggest names in the fashion industry to bring to you collections that are ground breaking and absolutely delightful, season after season. Presently, we collaborate with award-winning designers Saira Shakira, the masters of Bridal Dresses, Casual Wear and Chiffon Dresses and employ an in-house team of unbelievably talented design and art graduates. With its vast industrial experience, Crimson employs the most cutting edge production technologies for weaving, dyeing, embroidery and printing with an unwavering commitment to quality. Our collections are bright, beautiful and absolutely stunning. We promise to make you feel you're most beautiful.
Elan
This brand Elan was launched by Khadija Shah in 2006. Moreover, due to her creativity and stylish innovations in the fashion industry, she has managed to gain popularity locally and internationally. This brand launched its lawn dresses collection in 2019. women prefer mostly in Summer Dresses to enjoy the sunny weather conditions throughout the country Pakistani Fashion. This collection has a big variety which you can explore in this store. This brand has launched Velvet Dresses, Linen Dresses, Party Dresses, and other Pakistani Clothes Online. Besides, the fabric this brand uses is of top-notch quality and has a long life.