Pakistani lawn dresses are at the top dress. It suits for the summer season. All Pakistani brands and designers have put out colorful and elegant designs for their lawn collection. Indian women have their eyes on Pakistani dresses. They admired the embroidery work. India and Pakistan have similar weather conditions. So many Pakistani brands have given international access to countries like United States, United Kingdom, India, and others through online shopping.
So let's look upon some famous lawn dress designers of Pakistan:
Sobia Nazir
Sobia Nazir was launched in 1995. The designer mostly targets the female population. Following in time, the company has successfully been operating 9 different sub-brands. They carry bridal wear, pret wear, lawn dresses, linen dresses, and formal wear. As well as has other types of garments for women. Sobia Nazir launches its lawn collection every spring season just like the other lawn brands. They are very high in demand for lawn dresses. So they go out of stock relatively quickly. It put other Pakistani brands in competition to get their design first.
Sobia Nazir Luxury Lawn Collection 2019
She launches a Sobia Nazir luxury lawn collection 2019. It features over 15 different designs, with each design available in 2 color options for you to choose from.  It also features three-piece unstitched suits that are fit to be worn to semi-formal events. You can also buy them for Eid. The brand uses premium quality fabrics which are used to craft these lawn dresses. They are done with a high-quality printing job as well as intricately done embroideries to create the masterpieces. It is in retail for anywhere between 7950 to 8150 rupees. The brand lawn collection covers all the attractive hues of the color spectrum and has a perfect balance of dark-colored dresses. As well as it also includes in light-toned suits.
Beautiful Lawn Dress
This beautiful lawn dress is in a lovely baby pink color. In addition, it has a fully embroidered lawn front, with a plain back. It also features printed sleeves with lace detailing, as well as lace patches for the shirts border, trousers, and the neckline. They have also made it available in a pretty light blue color. It includes a plain dyed trouser and floral printed silk dupattas. This dress is available in Rs. 8150.
This dress will get attracted by black lovers. It features a floral printed design on the lawn shirt. This dress comes with embroidered net sleeves. This shirt has black lace patches for the sleeves, neckline and shirt border. The black dupatta is net which has embroidery done on it with light-colored thread in floral patterns. It is accessible in a blue color. This dress retails for RS. 8150. It has a plain dyed trouser to pair with.
Anyone who loves to wear this soothing blue color in summers will suit you perfectly. It has a fully printed lawn shirt with printed lawn sleeves. This dress is in an eye-catching vale blue color. It is paired with a floral printed silk dupatta. The dress features thick embroidered patches to be sewn on the plain dyed trousers. It is available in the yellow color option. It comes with a price tag of Rs. 8150.
Zara Shahjahan
It is a renowned fashion brand in Pakistan. The band is known for producing exquisite bridal wear, formal wear clothing, casual wear dresses. In addition, they have clothing available for men. The attire by Zara Shahjahan includes unstitched collection. Also, they have ready to wear dresses available. As every year, Zara releases its luxury lawn collection for this year. It is accessible across all its retail stores. As well as it is available on their websites. As the dresses by the brand go out of stock very shortly. So it is recommended to buy your favorite latest designs as soon as possible.
Zara Shahjahan Luxury Lawn Collection 2019
Here are the collections of the Zara Shahjahan luxury lawn collection 2019. It consists of beautiful lawn dresses in summer-friendly hues, where the majority of them are in light hues.
As you can see this lawn dress features a beautiful pale yellow colored shirt with an elaborate print on it. It is made from lawn material. The shirt has embroidered patches for the neckline and sleeves. As well as it's at the front and black borders of the shirt. It can be paired with white schiffli trousers. The suit comes with a silk dupatta that possesses a nice digital print. It has one more color option, available in retail for RS. 7500.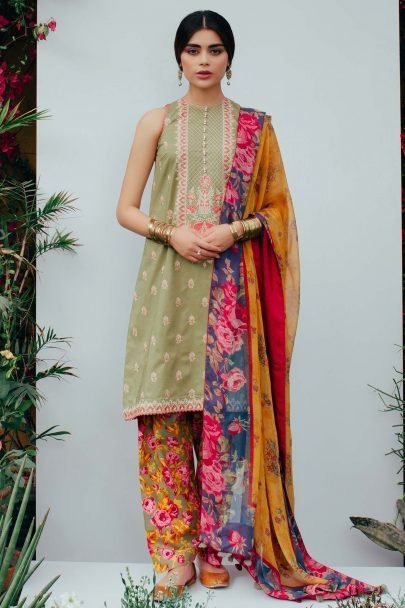 This dress is made from jacquard material. This dress truly works of art with its attractive ombre style design on the lower area of the sleeve and the bottom of the shirt. It is beautifully transitioning into the blue hues. It contributes elaborate embroidery on the neckline, a simplistic jacquard dupatta in pink color and a plain dyed trouser. This dress is available in one more color, in RS. 8100.