Pakistani weddings are incomplete without the classic attires as well as mehndi on beautiful hands and feet. Women of every age wish to fill their hands with light and heavy mehndi designs for different occasions especially when wedding seasons are near. Therefore, ladies are in need of different mehndi designs to serve beauty to their hands and feet. Everybody desires to look a lot of tempting in fancy weddings or Eid. Pakistani women feel proud to have trendy mehndi patterns from famous and notable Mehendi designers.
Kashees Mehndi
Kahsees always comes in mind for offering the most beautiful mehndi designs in Pakistan. The parlor is serving its best service for the past few years for Pakistani brides. They also excelled in the mehndi profession as they offer amazing and unique designs. Many notable female superstars from Pakistan and India have taken the privilege from Kashees and filled their hands with beautiful mehndi designs for festive events including Eid festivity. Kashif, the head of Kashees, is skillful in the mehndi field for occasions such as weddings, parties, and other events. People who are working there at Kashees delivers new mehndi designs every year with amazing colors like red, black, orange, brown with a mixture of glitters and various tones.
These designs are graceful and decorated with the combination of dazzling color mixtures, and beads and pearls in the middle of different designs for a more elegant look. Just as simple floral swirls on the front and back of your hand, it will serve lavish look with significant fillings of dry colors tones like red, yellow and gold. Designs bordered by double-coated on thin delicate designs will serve more marvelous look. You will be unable to choose as all the designs are beautiful and it is as if each one wants to have you.
The most charming and loved among women is the round tikka motives. These are designed with blooming and spiral twists around it. With the side twirls of floral designs add-on, the patterns look wonderful. Its styles are offered in a form of designs and classes. You would not know that the experts at Kashees not only have skills in Pakistani mehndi designs but also they are best in foreign designs such as Arabic, Turkish and Indian Rajasthani. That is why women around the like this parlor and get excited to have mehndi treat from there but that just one of the million reasons about them.
Kashees Stylish Mehndi Designs assortment features significant decorative patterns that are intended for Pakistani brides. The designs aren't just fancy but they will pair up well with such dresses like heavily embellished or light dresses. The most characteristic feature that you will only find in Kashees mehndi designing is gold and pearls or stones add-ons. Feet Mehndi designs also come with the deal that is fitted well to praise the designs applied. So have a quick look at the collection of Kashees Stylish Mehndi designs and you will surely get loaded with lots of inspiration for mehndi to apply for several occasions.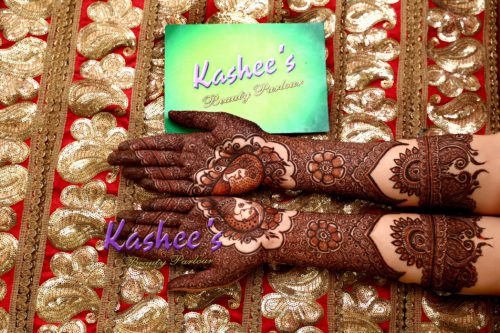 Simple N Easy Eid Mehndi Styles
Gol Tikki Henna Patterns: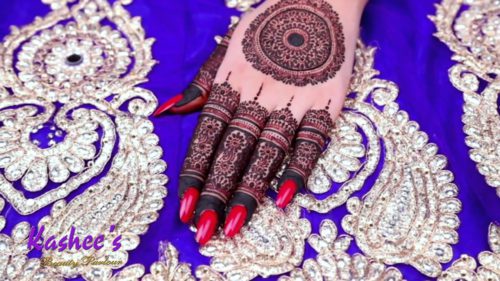 This design never gets old. It is among the most common and beloved. It looks pretty yet simple than the simplest. The design is now modified with the use of fine whorls of flowers which curls around the central filling. It's up to you to have variation in its outer design but matching with the design along with the fingers while keeping the rest of the part of the hand empty. As a result, the focus will be on the center of the tikki. To have a decent and simple look, the finer or lighter pattern should be designed.
Peacock Designs: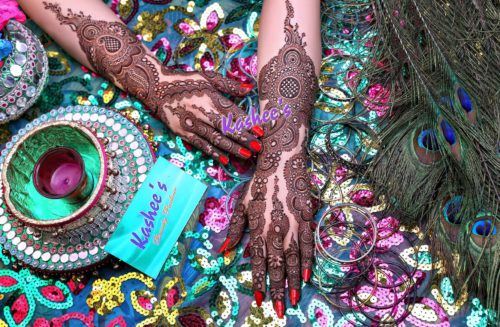 This one marks the classic henna designs which were applied a long time ago but now it has arrived again becoming the part of other mehndi art. The peacock design assists the patterns to extend outwards from the middle. Moreover, it is applied in an organized sequence of well patterns. This design seems to be easy to apply. Be certain that if you want to have design beautiful and attractive, a fine tip of mehndi cone will help.
Tribal Henna Patterns: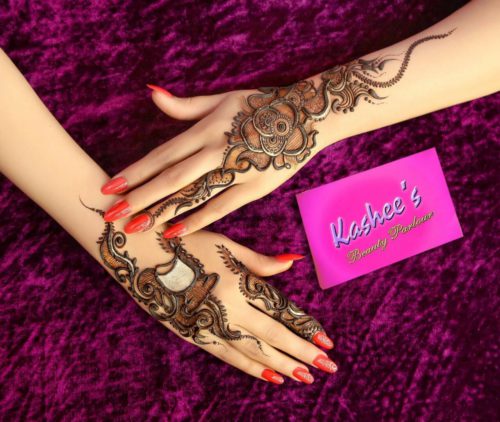 Tribal henna patterns may be the most contemporary and well-liked Heena patterns that feature several bold different styles. This style makes distinct from the rest with the features of dotted patterns, network lines, and fine block designs. It will be applied only to fingers, thumbs or wrist. They're called the most trendy type of mehndi design evolved through ancient patterns.