Eastern weddings and celebrations seem to be incomplete without the touch of our traditional apparel coupled with mehndi on hands. Women of recent and young ages like to carry light and heavy mehndi motifs. On their hands for every different formal occasion. As the Shaadi season always remains around the corner in Pakistan. We indeed require a variety of Mehndi designs and patterns to give a lovely outlook to our hands and feet. Everyone wishes to appear a lot of seductive whenever they don into a flowery wedding or Eid dresses. In Pakistan, plenty of the girls take pride to get their handful of mehndi designs from eminent Mehendi experts.
Kashees Mehndi Experts
Speaking of the eminent mehndi designers in Pakistan, Kashees Mehndi experts always come in mind. For quite a few years, Parlor has been providing some beauty service to some of its happily satisfied customers. In the field of mehndi art, it has also excelled, as it is famous for its unique and distinctive designs. Even many of the famous female television or movie stars of Pakistan. As well as Indian actors are seen as having mehndi patterns from Kashees on various festive occasions including Eid. Kashif is an expert in designing the mehndi for bridal wear, party wear, Eid and other events. Each year, experts working here brings out new and appealing mehndi designs. With the inclusion of variant colors like red, black, brown, orange with glitters and different shades of mehndi.
These designs are styled and adorned. With sparkling color infusions and additions of beads and pearls at the center of various motifs. From the simple floral swirls around the front and back of your hand. It can get fancier with the heavy fillings of red, yellow and gold dry hues. Thin, delicate patterns look more amazing when they are bordered by the double-coated boundaries. One cannot get enough of these, as every new design would want you to have it.
Mehndi Styles
The best of these designs are the round tikka motives that are the finest and prettiest of all. These are designed with florals and spiral whorls around it. These motifs are aided in looking beautiful with the addition of side twirls of floral patterns. Its designs are available in a variety of styles and categories. They are the professional in not solely Pakistani form of Mehandi, but they show great skills and expertise in the Arabic style of Mehandi, Turkish and also Indian Rajasthani mehndi designs. That is one of the many reasons that plenty of the girls prefer this parlor to get themselves mehndi treat on their hands.
Stylish Mehndi style assortment consists of serious floral motifs that are created for wedding occasions. These aren't simply mere fancy styles, but they equally seem elegant and will go with both the heavily embellished dresses and the light ones. The addition of gold and pearls or stones is the most distinguishing feature that you can only find in the Kashees' Mehendi crafts. Mehandi designs for feet are also the part of the package which is designed suitably to complement the patterns used overs. So in a short glance at following Latest collection of Mehendi designs, girls will get loads of mehndi art inspiration for various traditional occasions.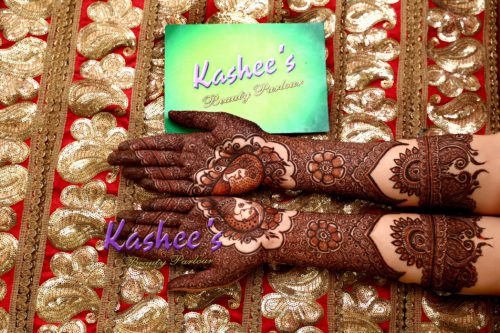 SIMPLE EASY EID MEHNDI DESIGNS
GOL TIKKI HENNA PATTERNS: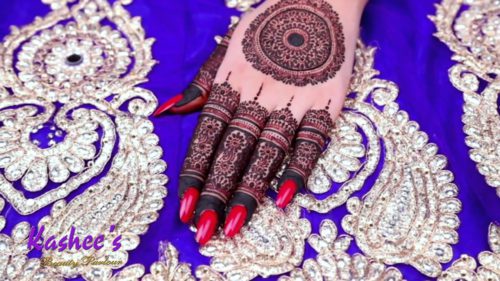 The most common and loved one, the Gol Tikki design never gets old. It is simple than the simplest but looks the prettiest of all. Gol Tikki is currently created a lot of change with the fine whorls of flowers curling around the central filling. One will bring variation in its outer patterns, but it should match the design along the fingers keeping the rest of the major part of the hand empty. It would highlight the center of your Tikki. The finer or light you style the pattern around it, the more decent and simple it would look.
PEACOCK DESIGNS: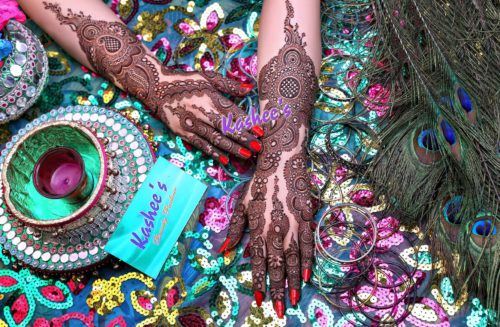 Peacock Mehndi styles to mark the normal henna patterns that were used in past times, and now they have become the part of every other mehndi design. The peacock patterns help to extend the pattern outwards from the center and can be applied in an interconnected series of fine motifs. The peacock styles are quite straightforward to use too however confirm to use a fine tip of mehndi cone to present your designs super seductive outlook.
TRIBAL HENNA PATTERNS: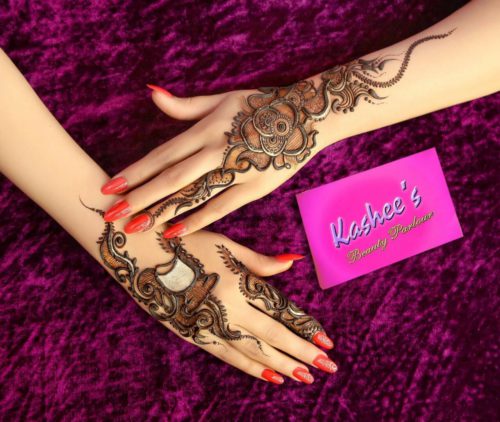 Perhaps the most prevailing and emerging Heena patterns are the tribal henna patterns that come in the variety of sharply distinct designs. As the use of dotted patterns, network lines or fine block styles present this type unique from the rest, you can keep it to only to fingers or only thumb region of your hand or solely to your wrist; it's all utterly up to you. They are known as the most fashionable sort of mehndi design evolved through ancient patterns.